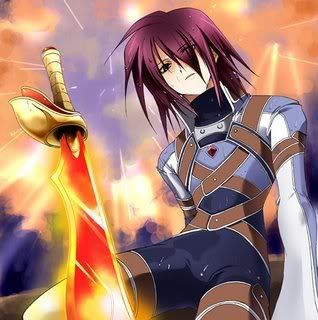 Yay Kratos in his Judgement outfit in the pouring rain XD.

Well then, I haven't posted in a while. Not since I left for Illinois. Well, let me update ya on things.

I went to my parents over Christmas. I had lots of fun seeing my family again, and enjoyed getting alot of clothes...*note sarcasm*. It's alright though, they were really cute. I even got to see Justus! I was soooo happy! I hadn't seen him in over a year! Stupid Navy keeping him away from me. *giggles* I got a Spongebob ball from Vince for christmas, with a note that said, "here, now you can kick spongebob around all you want". It was awesome! Although I liked my presents from Wes and Bill the best! Wes got me Monopoly, Nightmare Before Christmas style and a Toshiro Hitsuguya plushie! Bill got me a paint-by-number fox painting thing. I love them all!

On New Year's, Wes and I went to one of his buddies from Fed-ex, house. We even got Wes to play Beatles Rockband. He sang most of the time, but played drums for a bit. He's an amazing singer, and I love him to death.

Other than all that...we really haven't done much else. I'm on 2 RP communities on LJ. They're alot of fun! They're multi-fandom rps too! Multi-fandom rps basically make it so you can play your favorite anime, cartoon, video game, tv show, or book character in an AU, along with a whole bunch of others. I'm playing Hanatarou Yamada from Bleach in one and Tear Grants from Tales of the Abyss in another. They're fun!.
Current Location:

Work

Current Mood:

happy